About Us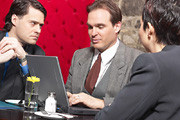 Voicetech Solutions is founded and driven by industry professionals who have decades of experience in the Interactive Voice Response (IVR) domain. Their product - VoisFusion is architected with the singular objective of providing a superlative customer experience.
Voicetech Solutions provides an unique value proposition to meet the explosive demands of scalable Interactive Voice Response (IVR) with VoIP capabilities. Global IVR vendors are increasingly forced to adapt to the emerging VoIP technology. Voicetech Solutions' advanced architecture provides a massively scaleable VoIP IVR for the emerging VoIP market.
Voicetech Solutions' offshore development model produces cost-effective solutions to cater to the needs of existing and emerging IVR markets across the globe.